UPDATE:Student protests – live coverage
As parliament votes on higher tuition fees thousands of students are marching in London and Edinburgh. Follow the latest here. Send us your news:
@peterwalker99
peter.walker@guardian.co.uk

Student protests – live coverage and an education by Police Thugs who are unable to target the real trouble makers, strangers, not students. Charging with horses, is the action of thugs.
As parliament votes on higher tuition fees thousands of students are marching in London and Edinburgh. Follow the latest here. Send us your news:
@peterwalker99
peter.walker@guardian.co.uk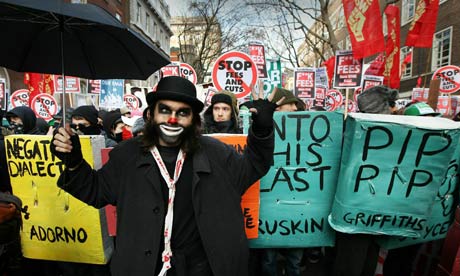 Student protestors gather for a march on parliament. Photograph: Peter Macdiarmid/Getty Images
5.06pm: The Guardian's Jonathan Haynes calls me from Whitehall. He says that while the "kettle" on Parliament Square is being officers where he is – just near the Cenotaph – won't let anyone out, even the media. He's shown his press card to two police but remains penned in. There are riot police and mounted officers and they are, he says, using "very heavy handed" tactics – striding into a passive crowd to shove people backwards.
4.31pm: Our very own Caroline Davies emails me with this:

Shiv Malik, 29, a journalist, gave the Guardian this account from a cab on his way to University College Hospital for treatment to a head wound caused by a police baton. He was in Parliament Square at the junction with Victoria Street caught between the police line and the students, who were moving the fence up in an attempt to break through.

"The crowd surged in an attempt to break through the police line, and I was caught on the same side as the police but facing towards them with the fence behind me. The fence came right up to the police line. The police started to push back then they started using their batons on protesters. I was caught then and pushed up towards the front. I ducked, my glasses were knocked off my face so I was trying to hold them. Then, basically, a baton strike came to the side of my face and then onto the top of my head. Directly onto the crown of my head. I felt a big whacking thud and I heard it reverberating inside my head.
"I wasn't sure whether I was bleeding or not. I moved off to the side and asked a police officer if I was bleeding. But he just said 'Keep moving, keep moving". Then I put my hand to the top of my head and looked at my palm and I could see there was blood everywhere. I then asked another police officer, who was wearing a police medic badge, if he could help me. And he told me to move away as well and told me to go to another exit. By this point blood was streaming down the back of my head and back of my neck and matting my hair. I was wearing a roll neck jumper and it was seeping into the back of my jumper. I managed to come off to one side and make my way out where two protesting student helped me. They were cleaning the top of my head with water and some tissues. Someone in the crowd gave me a whole pack of Kleenex. Then two female protestors escorted me out. I had to walk all the way up to Leicester Square where I managed to catch a cab.
I don't know the extent of my injury. I've been told it's about an inch long gash right at the top of my crown. It stopped bleeding now, but it was bleeding badly for about ten minutes."
what do they think they are doing to peaceful protest?A student medical steward – he's a trained St John's Ambulance member – has phoned in to say he's treated at least 10 head injuries from marchers being hit with police batons, around two thirds of which were serious enough to need hospital treatment.
Finally, Scotland Yard say two officers have been injured, one knocked unconscious who's suffered head injuries, and one with leg injuries after being knocked from his horse.
4.18pm: BBC News showing slightly ominous footage of police horses lining up in the dusk. More charges coming, I expect.
3.29pm: It's probably high time we had a recap:
• As MPs debate higher tuition fees in the Commons tens of thousands of students and others have marched through central London towards Parliament Square.
• The vast bulk of the protest has been peaceful and good-natured, those on the ground say.
• However, there have been some isolated skirmishes, mainly protesters using barriers to try and force back police lines. Some placards and flares have been thrown.
• Scotland Yard says that so far there has been just one arrest (for drunk and disorderly) and no reported injuries, though both could change.
• Police have seemingly not been able to contain marchers as they had hoped. A large nunber have spilled onto the green of Parliament Square, painting a giant "No" in red paint.
• Some officers have donned riot gear and police horses are in place.
• There has been a smaller march in Newcastle and later today students in Edinburgh will hold a rally at the Scottish parliament.
2.52pm Guardian's Jonathan Haynes, who's currently getting to know his fellow marchers much better inside Parliament Square:Hello - trapped in crush where police hold protest back outside parliament – sure you have better view on TV. Crowd have homemade shields. One young protester picked up brick – immediately told by all around to put it down. Things have been thrown at police though – crowd increasing frustrated at having nowhere to go. Current discussion is whether protest in now kettled, no on seems to know.
12.32pm Protesters listening to speeches near Russell Square, marshalled by police. Numbers are swelling rapidly, predominantly university students but younger and older faces too. Many are wearing green hard hats which were being given out at the University of London Union, bearing the legend: "Tax the banks not the students." Lots of calls from speakers for police to avoid kettling, and anti-Liberal Democrat rhetoric. Just been hearing from a Camden School for Girls pupil, which was occupied for 24 hours until this morning. Large police presence here, although it's very peaceful so far. An elderly man is playing the violin next to me.
12.18pm: Scotland Yard are once again, to use that well-known phrase, predicting a riot. These quotes are newly on PA from the force's Superintendent Julia Pendry:
Protesters will be allowed sight and sound of parliament. However, there is evidence to suggest a number of people will come to London intent on causing violence and disorder. They are jumping on the bandwagon of these demonstrations with no intention to protest or interest in student tuition fees. This is of concern to us.
Those who come to London for peaceful protest will be policed proportionately and appropriately. But those who are intent on committing crime will also be dealt with and they will suffer the consequences of their actions.
uk Student protests: today is our 1968 moment
A coalition victory in the tuition fees vote could turn our protest into a mass anti-privatisation movement
Less than a month after the first national student demonstration, the coalition has given up on real argument. The line now being pushed by Nick Clegg and David Cameron is that students – the full-time readers, the doctoral researchers – simply haven't read the government's proposals, or don't understand them.
We have read them, and we don't like them. These proposals will put up barriers to access for poorer students who fear a lifetime of debt; they will hammer arts and humanities; and they will lead to the closure and merging of universities that are reliant on teaching grants, most of which are disproportionately populated with students from less privileged backgrounds. Yes, the salary at which graduates will start to repay tuition fees has risen to £21,000; yes, there will be a national bursary pot. But the concessions and apologies of recent days pale in comparison to the privatisation and marketisation of higher education. The reforms threaten to turn universities into businesses and students into compliant consumers. If the protests have shown anything, it is that we are nothing of the sort.
It is the government that is failing to understand the situation. At the time of writing, something like 30 universities have gone into occupation, and school and FE students have come out in tens of thousands to defend their right to basic levels of educational maintenance support and accessible university education. The government is doing more than plugging a funding gap, it is fundamentally changing the purpose of education: not simply orientating it towards the logic of the market, but introducing the market directly into the system.
In response, we are witnessing the rebirth of mass discontent in a serious form. Direct action, a move away from the polite, self-indulgent dissent of the last decade, has empowered a generation of young people. Many of these newly empowered students voted Lib Dem because they believed that the Lib Dems offered electoral reform, an end to two-party suffocation; and because they promised – all of them – to vote against a rise in tuition fees. The way in which the coalition has behaved on fees has fed into a broader disillusion. What was presented as "new politics" looks empty now, as reluctant Lib Dem MPs are pushed through the lobbies – by hook or by crook. If the government wins today's vote on fees, it will not be a moral victory – and will certainly not be the end of the student protest movement.
For now, students' attention is fixed on the vote. People from all over the country will march to parliament from the University of London Union to demand that the Lib Dems stick to their pledge, that electoral democracy do its job, and that their voice be heard.
With just hours to go until the vote, it is now undeniably possible that the fee rise will pass. If it does, it will be the task of everyone who wants to oppose the wholesale marketisation of society to remain steadfast. History tells us that repeal is a serious possibility. The poll tax was passed and defeated, as was the French CPE (first employment contract), which threatened the basic rights of young people at work.
The student movement is no longer picking at the seams of a rise in fees; as in France in May 1968, the injustice of the vote may awaken a broader crisis. But while in 1968 protesters fought for a new society and a new history, today we contest the supposed end of history – the idea that human progress is now and for ever linked to free markets and corporate interests. It is a paradigm that continues to form the backbone of mainstream political discourse.
The government at the heart of this crisis has nothing to offer us but palliatives: meagre electoral reform, the odd quid for bursaries, the hollow slogans of the "big society". The popular unrest over education reforms is threatening to bypass the rhetoric, and to spread to millions of ordinary working people after Christmas. Lib Dem MPs must now stick to their pledge. If they don't, and the vote passes, they will regret it.